On Friday, Ben and I attended the wedding of our dear friends, Shaun and Camila. The weather was forecast to be 27 degrees and stormy: weather I would normally embrace, but given the ceremony was to be held outside on the river front at Ascot Quays, we were praying for nothing but sunshine and warmth!
Our prayers were answered as the day was beyond compare. Balmy, sunny and warm, to complement the most delightful of couples 🙂 So, what to wear for possibly temperamental weather? Silk chiffon felt far too summery and 3/4 sleeved silk jersey was going to be far to suffocating, so I selected a relatively recent purchase of mine, a viscose knit sleeveless dress by Alexander McQueen.
I have been eager to wear this stunning grid print, jacquard knit dress with tiny cap sleeves and full circular skirt since I nabbed it on eBay for a song, but had not yet found the right occasion. From McQueen's Spring/Summer 2014 collection, it originally retailed for approximately $2,100 but I snagged it for US$140. How could I have purchased such a covetable McQueen item for so little, I hear you ask!??!? The seller had incorrectly spelt 'McQueen' as 'MQueen', and no one is searching for MQueen on eBay!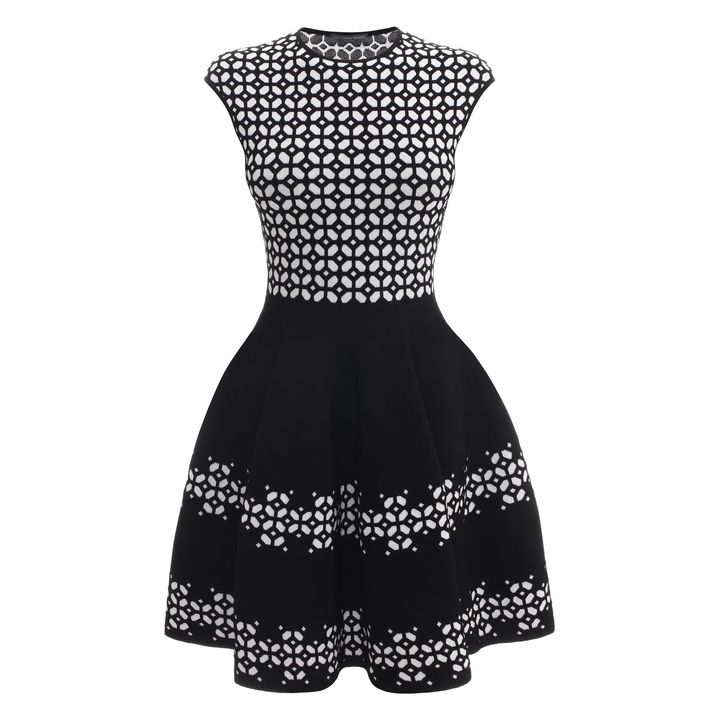 I was lucky enough to be able to use a complimentary Beauty Loop session at Mecca, so had my makeup expertly applied the morning of the wedding by the team at Mecca Claremont. I set my hair in loose waves to complement the fullness of the skirt, donned patent leather wedges from Scanlan & Theodore (that are as old as the hills!) and was ready to go!
I received so many compliments on the dress! I felt appropriately dressed and so incredibly comfortable, not to mention sophisticated, elegant and rather girlish (you should see the skirt in motion!). McQueen's knit dresses are the stuff of legends – sleek, sophisticated, sexy, sometimes a little quirky, strong, refined, easy-to-wear. I dare you to check out some of the dress range on offer here and here, and (better still) on sale here and here, and not fall in love with pretty much everything!
I apologise for not having more pictures from the day – I was having far too much fun to remember to take snaps for the blog!!
xxxxx
If you love this, please share!