The Friends & Family sale at yoox has only just finished, with a huge range of men's, women's and children's goods reduced from 50 to 90% off. If you missed out this time, fear not, because it means the mega clearance sale (which sells items at up to 99% off) is just around the corner!!
I was very restrained and only purchased myself one item *pat on the back!* Many of my clothing purchases over the 18 months have been made with 'maternity' in mind. I'll admit, 18 months ago, I wasn't considering falling pregnant, but because I knew it was on the cards for our future, I couldn't imagine making purchases without a certain functionality in mind.
Was the item stretchy, to accommodate growth around my middle?
Did the item have sufficient length in the body/skirt, so that when a belly protrudes it won't be exposing all and sundry?
Was the item empire waisted, shift, wrap or cocoon (all shapes that readily accommodate a changing body)?
Now that I am pregnant and my belly has popped, I am not only learning what works for my new shape, but I am considering items for post-birth wear. A dress with a wrap front is ideal for breast-feeding, and is always flattering for a large bust. I simply couldn't pass up this bargain piece, a dress by Italian label Momoní. Fashioned from a soft, chiffon-like viscose-silk, it features a button front and deep V-neck in an easy-to-wear print.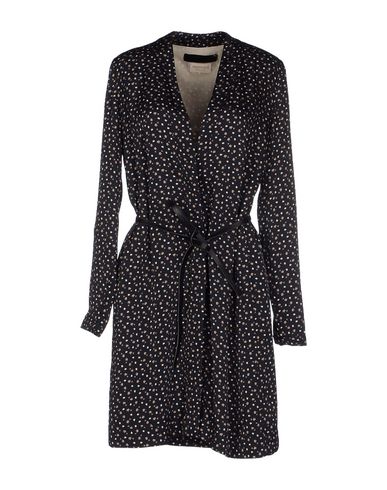 It was selling on yoox for US$147 and I nabbed it for US$25 (sadly, it is no longer available). How could I resist?!?
Shirt dresses, like wrap dresses, are always in fashion due to their timeless silhouette and simplicity. They're incredibly versatile and comfortable and, when belted at the waist, supremely flattering on a variety of shapes and sizes. I'm also loving these shirt dresses available now at yoox (click to shop):
I will let you know when the yoox clearance sale is on (and what I indulge in!). In the meantime, I'm eagerly tracking my new purchase and will share when it arrives.
xxxxx
If you love this, please share!